"We will always be failures. We will never be the best at everything. Once we come to terms with that then we can just give it a bash and make an effective decision." – Andrea Culligan, Redii

The topic of failure was a timely discussion for our SheStarts founders during their recent two-day immersion at LinkedIn HQ in Sydney.
Over the course of 48 hours, the founders heard from a rockstar lineup of panelists including: Dr Carla Harris from Longevity App; Andrea Culligan from Redii; Dr Claire Jenkins from Vetchat; Jess Wilson from Stashd; Vinko Grgic from Jayride and; BlueChilli sales and wellbeing gurus Megan Flamer, Adeline Chu, Colette Grgic and Chris Ball.
We are eternally grateful to our partners at LinkedIn who gracefully hosted the events. We heard from stellar partner advisors like Anita Sood, Andrew Lowson, Esther Gergis and Anna Hankin from Microsoft; Nick O'Donnell from LinkedIn; Kristen Holden from MYOB; and Leigh Gibson from ANZ.
We wish we could bottle the experience and insights gained from these two days! Here's a bit of a taste of what they shared…
---
In startup land, failure often gets glorified. We're told you need "fail fast", learn from each rejection, iterate and move on. And what's more, you need to operate at warp speed to achieve that startup dream!

But let's face it, failure hurts. And operating warp speed can get pretty damn hard when you're doing it for months on end.

So how do you set yourself up to have the resilience required to withstand the inevitable bumps in the road when you're striving to change the world?
"Ultimately moments of failure and rejection are life-defining moments. You get to know yourself as someone who has gone through it, survived and risen up from it," says Megan Flamer, wellbeing consultant and Program Manager of Xcelerate.
"When people are saying no to your product, they are not saying no to you as a human. You as a person are not a failure. It means it isn't a fit for them right now. And who knows what might come out of it later; eventually it might become a fit."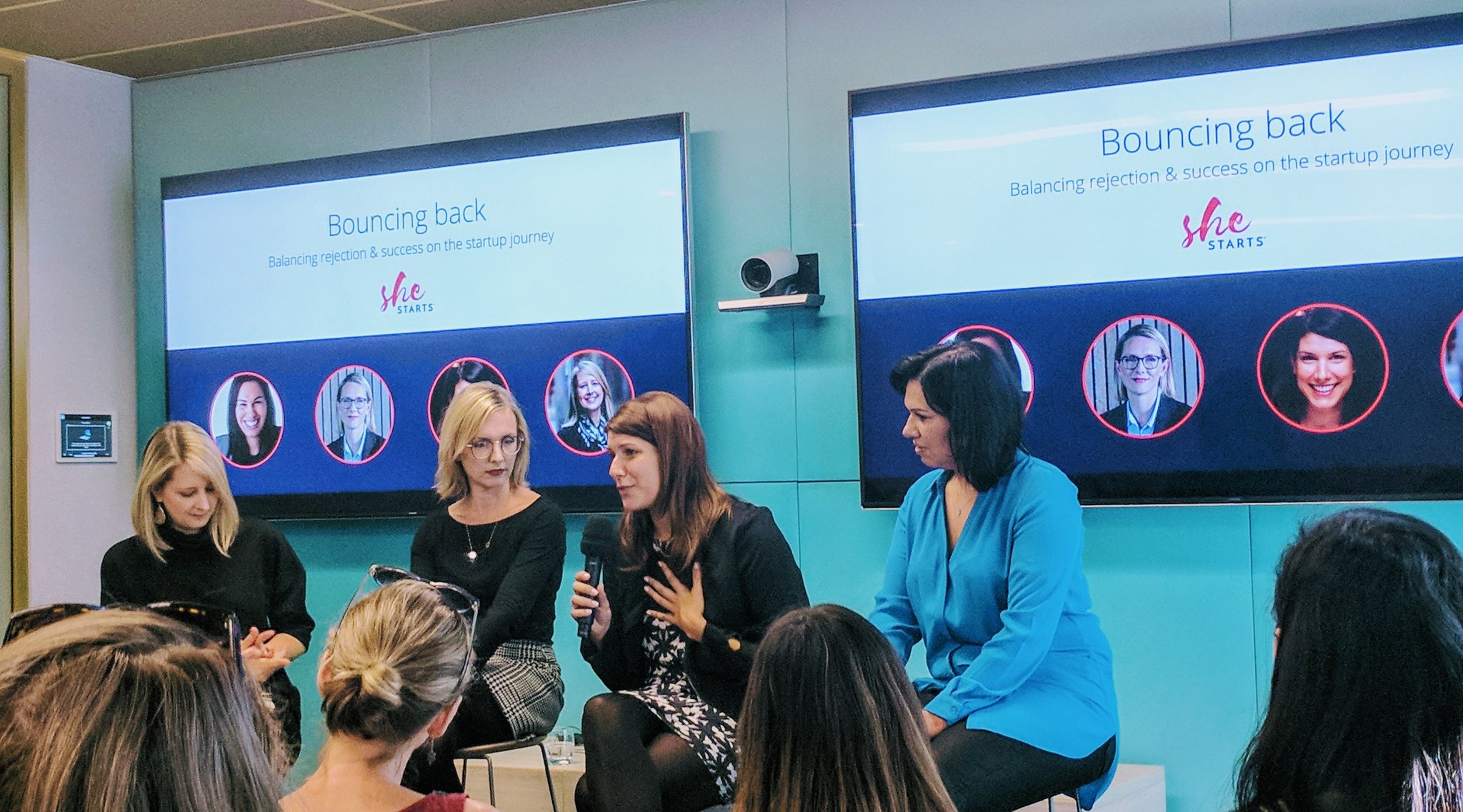 The phenomenal Anita Sood from Microsoft added that getting a no can actually be a gift!
"When you get a no or get rejected, always ask the other person why and LISTEN. They might provide you with you some gems and life-changing perspectives," Anita said.

"Within our team at Microsoft we work at such a high pace – it is an extremely high risk and high pressure, but we wouldn't have it any other way. We can't have more time, only more space in our head, so that's what I am trying to do."
Resilience and moving forward, keeping it rolling and looking for new opportunities were a huge theme of the internal resilience panel held on the first of the two days.
Jess Wilson, CEO and Founder of Stashd App told the group, "As a startup founder you have to keep things moving and you can't get stuck hoping things will work out when it isn't. I usually tell my team: It is what it is; now let's figure out what to do next."
"Treat feedback and opinions as data points." – Jess Wilson, CEO and Founder of Stashd App
SheStarts alumni, CEO and Cofounder of Vetchat Dr Claire Jenkins echoed this approach to taking feedback on board.
"What has helped me is to consider myself a work-in-progress, just like my business; I'm taking the feedback and learning everyday," Claire said.
But what about when the feedback gets a little bit rough? Fellow SheStarts alumni, Dr Carla Harris of Longevity App said it's all about the company you keep.
"Surround yourself with a community and a support network. Friends are so important; however, they might not always understand what you're going through with your business. So make sure have mentors and business advisors, people with business acumen who have been in your shoes and can point you in the right direction," Carla said.
Rounding out the wisdom on failure, growth and learning was Andrea Culligan, Chief Experience Officer at Redii who gifted us with this pearl – "We will always be failures. We will never be the best at everything. Once we come to terms with that then we can just give it a bash and make an effective decision."

"The decision isn't for me, it's for the greater purpose of the business. The business is never ours, it's the customers." – Andrea Culligan, Chief Experience Officer at Redii.

And the final bit of inspiration came from Jayride's Head of Operations, Vinko Grgic, reminding us what it's all about.
"It all comes back to your why. The startup journey truly is a marathon – it's not going to be easier, you're never going to have enough time or enough money, but if you know why you're doing it you'll make it work."
What a great sense of perspective! We can't wait to continue creating experiences for our founders to learn from the leading experts in their fields, and to share what we can with you all.